Although few observers consider Russia to be an active player in the Indian Ocean, it has long sought to establish permanent bases in the region. Efforts that began in the Soviet era with bases in the Horn of Africa and the Red Sea have culminated in recent pushes into Sudan and Myanmar. Russia's moves to establish a naval base – and other forms of influence – in Sudan showcase Moscow's desire to regain its authority and reputation around the world. Recent Russian outreach to the government in Myanmar could indicate that Moscow aims to acquire a naval base there and join the international competition in the region.
Russia's ambition to occupy bases in the Indian Ocean, Horn of Africa, and particularly around the chokepoint of the Bab-El Mandeb in the Red Sea also clearly represent its efforts to have a finger on the pulse of international maritime trade, not least energy shipments, through these strategic waters. Bases there, especially if occupied by vessels with long-range precision-strike capability, can also threaten NATO in the Mediterranean and U.S. naval vessels in the Indian Ocean, particularly in a conflict involving Iran. Moreover, in view of Russia's repeated violations of the U.N. Commission on the Law of the Sea treaty in the Sea of Azov, Kerch Strait, and Black Sea, as well as its similar intentions elsewhere, its push for new bases represents a threat to the foundational principle of the Law of the Sea. It also would be a major Russian power projection move into Africa to enhance its multi-dimensional presence across the continent.
Although Russian analysts and officials have signaled the country's interest in the Indian Ocean – the country's 2015 maritime doctrine calls the region a priority area – Moscow has not yet clearly stated its goals there beyond being acknowledged as a great power. The 2017 Naval Doctrine, though replete with naval threats to Russia and assertions of Russia's need to be everywhere on the "world ocean," barely mentions the Indian Ocean, and then only in terms of piracy at Djibouti. But it does say:
"In the 21st century, the role of the armed forces in the competition of states for leadership on the oceans and at sea has significantly increased. Fleets of the world powers can alter the course of armed conflict by their operations from the sea, and change the entire outcome of war. This is confirmed by the US concept of 'global strike', which poses a new challenge to international security and directly threatens military security of the Russian Federation. Naval forces are a vital part of implementation of this concept."
It can thus be inferred that Moscow's goals are to deter and even threaten Western and especially U.S. naval vessels in these waters. Russia also wants a global maritime presence as the second-strongest naval power in the world – even if that goal is not attainable. Therefore, it must be in the Indian Ocean and key waters like the Persian Gulf, Red Sea, and elsewhere to satisfy its global great-power ambitions. The desire to sit at every "presidium table" in world politics remains a major impetus of Russian foreign and defense policy.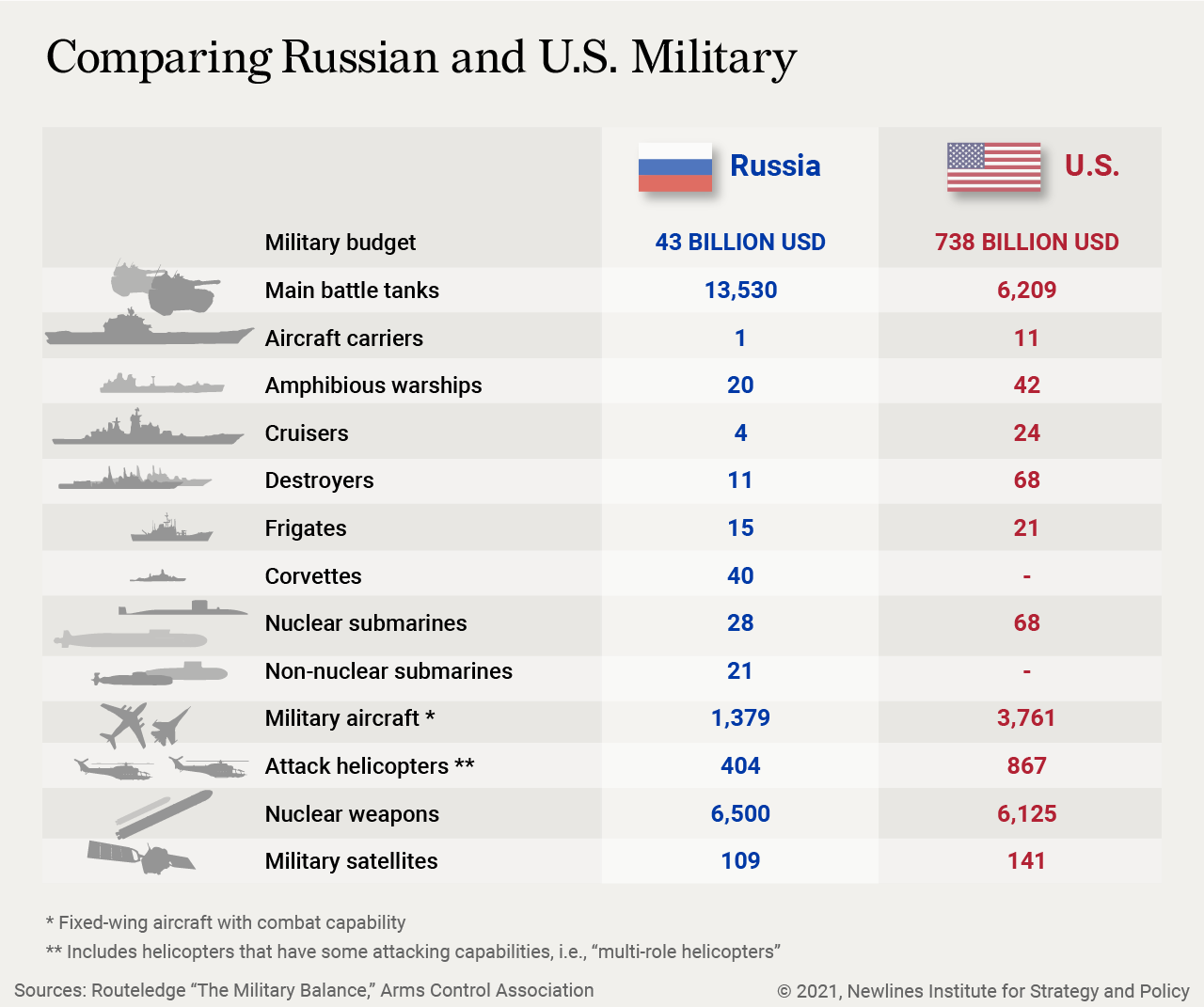 Russia's objective is to recover the status claimed by Soviet Foreign Minister Andrei Gromyko at the XXIV Party Congress in 1971, where he stated that no question in world politics could be decided without the participation of the Soviet Union (or, as Foreign Minister Sergei Lavrov has more recently put it, "Not a cannon can be fired in Europe without our consent"). Ongoing trends such as recent Russo-Iranian naval exercises, ostensibly to support maritime trade in the Indian Ocean, confirm that Moscow aims to revise international order on a global scale.
Russia's previous tactics in Sudan resemble its current policies toward Myanmar, especially after Myanmar's recent military coup. In both instances, Russia has employed arms sales and strong diplomatic support in the United Nations for these regimes to block hostile U.N. action or influence U.N. policies positively on their behalf. Russia also has strongly supported these regimes against insurgents, whatever the cause of the unrest, and has offered information warfare support.
With Sudan, Russia is aiming at increased economic penetration. Its activities in Myanmar correlate with renewed interest in heightened exposure in Southeast Asia through new arms sales deals with local governments. Therefore, Moscow may be angling for a naval and/or air base in Myanmar based on its expanding influence there and in return for its support of the regime.
Russian Tactics in Sudan
Russia's 2020 acquisition of a base at Port Sudan exemplifies its quest for Indian Ocean bases to validate its global great-power status and ambitions. Despite reported Sudanese-Russian frictions surrounding the base, it is unclear whether Moscow will lose it (and if that happens, Russia likely would search elsewhere for a replacement.
Russia's tactics in Sudan exemplify its integration of all elements of power and policy to secure tactical or strategic advantages to effectuate further strategic change. James Sherr wrote that we now see "an uncommon degree of political-military integration in pursuit of Russia's state objectives." Similarly, Margarete Klein noted:
The armed forces became a crucial instrument for exerting influence, but are also used as an amplifier for non-military means. They are used both openly and covertly. In addition, Moscow employs its military instruments to expand cooperation with other states. Military cooperation is playing an increasingly important role in consolidating existing or developing new partnerships, such as the armaments cooperation with Turkey or joint exercises with China and Egypt.
This integration is particularly effective in states like Sudan that are confronting serious domestic and external challenges. The confluence of this strategy with these governments' needs represents an ideal context for pursuing Russia's goals. This is not because these states are inherently pro-Russia; rather, Russia appeals to them as a supplier of strategic goods that can alleviate their dilemmas without demanding unpalatable reforms.
For example, in 2017, then-Sudanese President Omar Bashir offered Russia a base in return for military support against domestic opponents and South Sudan. Simultaneously, Bashir endeavored to persuade the U.N. to lift the arms embargo imposed by Resolution 1591 during the war leading to South Sudan's independence in 2005. Sudan also sought loans and the lifting of U.S. sanctions for allegedly being a state sponsor of terrorism. While the United States acknowledges that Sudan no longer sponsors terrorism, that clearly did not suffice to counter Russian influence. Despite the U.N. resolution, Moscow has long supported loosening sanctions on Sudan and ending the U.N.'s peacekeeping mission in the troubled Darfur region. These facts explain why Sudan sought Russian arms and political support and Russia's willingness to reciprocate in return for a long-sought base. Bashir's request for domestic support merely added to Russia's incentives.
Recognizing Sudan's frustration, Russia's contacts with Sudan centered on circumventing the U.N. and the sanctions. Here an influence operation conducted by Yevgeny Prigozhin, the leader of the Internet Research Agency and private military company the Wagner Group, came to the rescue. A November 2020 report in the Daily Beast shows how Prigozhin's associates infiltrated the U.N. panel charged with monitoring implementation of the embargo on Sudan. Nikolai Dobronravin, a St. Petersburg University professor and expert on Africa, worked as a consultant for two of Prigozhin's firms with interests in the Central African Republic with the knowledge of Russian authorities. Then in 2018 he joined the panel overseeing U.N. sanctions. "Dobronravin also corresponded frequently with senior Russian officials in the ministry of foreign affairs about his pending application to represent the Russian federation first on the U.N. panel of experts for Central African Republic sanctions then on the Sudan panel," the report said.
In return, Prigozhin obtained the rights to mine gold in Sudan. Meanwhile, the Wagner Group demonstrated Russia's ability and willingness to support Sudan's government and train Sudanese forces at little cost. As Western reports state, these mining rights represented payment for the Wagner Group's training of local military forces. These and other operations furnished Russia with an enduring leverage inside Sudan even after a coup unseated Bashir in 2019. Notwithstanding the change of regime, Sudan's foreign policy objectives remained the same, and the new government found it expedient to deal with Russia on this existing basis.
The security situation in the Horn of Africa has steadily degenerated since 2017. The region has become a source of growing international rivalry, with a major Chinese naval base at Djibouti, a U.N. force also based in Djibouti to fight Islamist pirates and growing terrorism in the Sahel, and Turkish forces operating in Somalia. Ethiopia has embarked on a civil war against the rebellious Tigray province that appears to be dragging Eritrea and possibly Sudan into the fray. Ethiopia and Egypt are engaged in a major controversy over the Great Ethiopian River Dam that, from Cairo's standpoint, threatens the security of its water sources from the Nile. Furthermore, Eritrea and Somaliland have offered Moscow facilities such as logistics centers, if not bases, on their coasts. Under the circumstances, these added Russian forces are unlikely to help pacify the region – in fact, it is likely the contrary, as the added presence of each major actor increases the risk of a proxy war. And all this is true despite improved U.S. relations with Sudan.
Consequently, on Nov. 11, 2020, Russia announced the acquisition of a naval base or logistics support center off the Sudanese coast at Port Sudan. It is described as a logistics base with space for up to 300 sailors that can accommodate up to four ships, including nuclear-propulsion ships, for up to 25 years. While this new base ostensibly aims at "maintaining peace and stability in the region," it also would be used to carry out repairs, replenish supplies, and serve as a resting place for Russian navy forces. This will be Moscow's second naval base abroad – the other is in Tartus, Syria – and given past experience it is likely to expand in size and scope as well as the forces and missions that could be stationed there, presumably under the guise of "maintaining peace and security." Moreover, it can also host nuclear-powered warships, including submarines. It also will be used to guard what Russia expects will be substantially greater economic penetration and investment there.
Russian Policy in Myanmar
The parallels in Myanmar to Russia's policies in Sudan are telling. Since 2000, Russia has supplied $1.44 billion in arms to Myanmar, making it the second-largest arms supplier behind China. Specifically, through 2018 Myanmar has purchased 30 MiG-29s; 12 Yak-130s; 25 M-17 transport and MI-35 attack helicopters; and 8 Pechora-2M anti-aircraft missile systems. In 2018, it signed a contract to buy 6 Su-30s. Thus, there is a precedent for buying maritime and air defense capabilities that could be deployed at a future naval and/or air base for future Russian use.
"Military-technical cooperation," meaning the sale of arms, has been growing since Myanmar's military coup in February. Myanmar military chief Min Aung Hlaing has visited Russia and has pursued closer ties with Moscow. Russian Defense Minister Sergei Shoigu visited Myanmar just before the coup, and it is unlikely that Russian intelligence did not have advance warning of it. During his visit, Shoigu signed a contract to supply Pantsir SAMs and Orlan 10-E surveillance drones to Myanmar's military, which is embattled at home and abroad. Perhaps more importantly, both sides agreed to permit entry of Russian warships into Myanmar's port. Indeed, Russian ships had already previously visited Myanmar's ports.
As with Sudan, Myanmar has become particularly close to Russia through Moscow's provision of military education; high-level bilateral diplomacy, including state visits; agreements on intelligence sharing on crime and terrorism; and technical assistance. And just as in Sudan, Moscow has supported the government against dissidents – in Myanmar's case the crisis in Rakhine state that led to charges that the government committed genocide against the Rohingya ethnic minority. Despite widespread international opposition and U.N. resolutions condemning the coup and the new military government, Moscow protected the regime in the U.N., refused to condemn its domestic policies, and sent Deputy Defense Minister Alexander Fomin there to participate in Myanmar's Armed Forces Day. Fomin called Myanmar "Russia's reliable ally and strategic partner in Southeast Asia and the Asia Pacific" and emphasized that Moscow "adheres to the strategic course of enhancing relations between the two countries."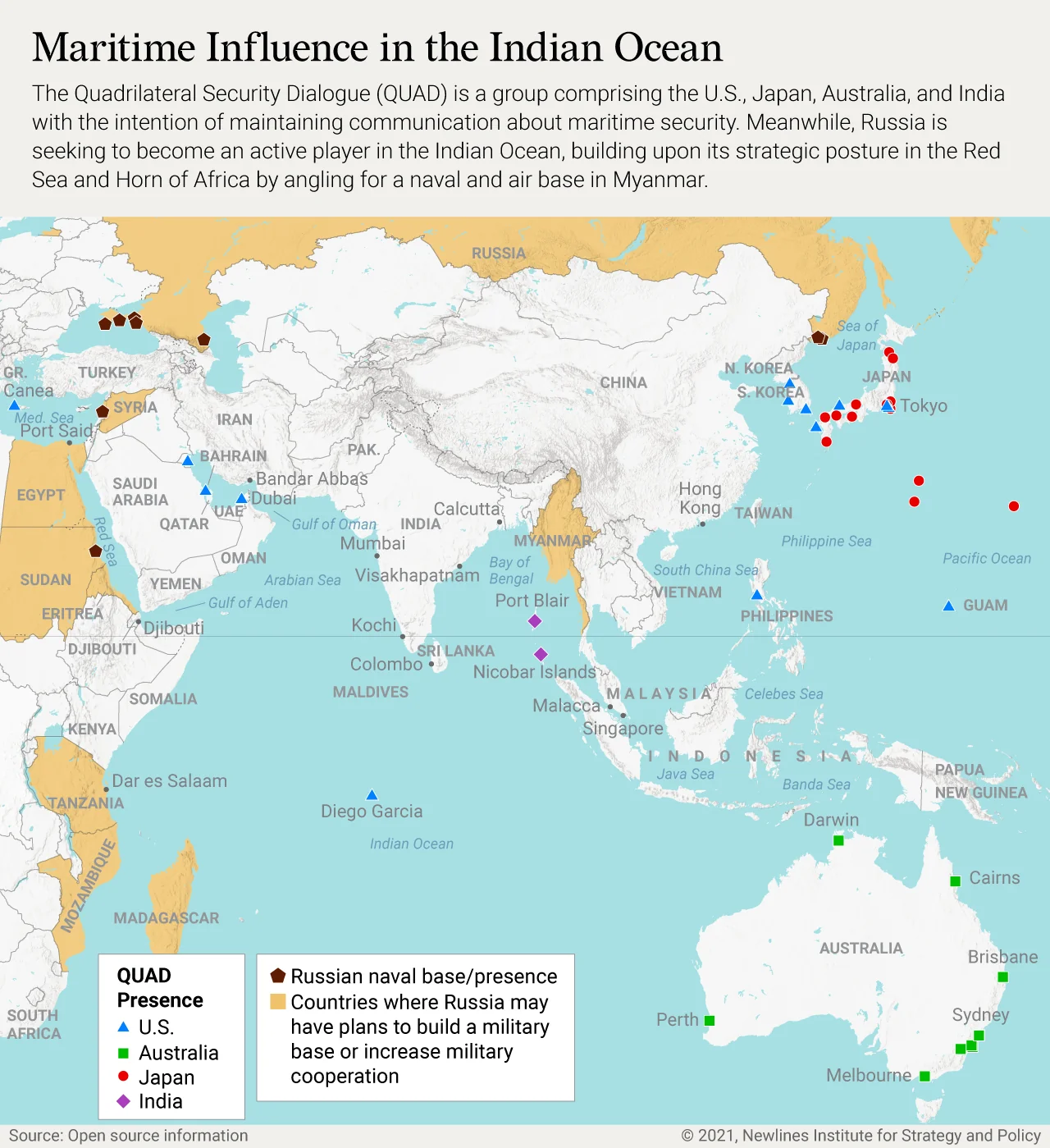 In both Myanmar and Sudan, Russia has struck long-term deals for arms sales and broader military cooperation and has supported an authoritarian military regime against domestic opposition – no doubt in large measure to shared antipathy between Moscow and these rulers toward any expression of autonomous political activity – increasing the potential for Russian economic penetration.
In Myanmar's case, it would likely be oil sales to Russia – a logical next step given that Russian energy companies have been in Myanmar for years. In September 2006, Russia's JSC Zarubezhneft Itera Oil and Gas Company and Sun Group of India jointly agreed to explore for oil and gas in the country with Myanmar's state-owned Myanmar Oil and Gas Enterprise (MOGE), and Russia's Silver Wave Sputnik Petroleum Pet Ltd. reportedly signed the same deal in 2007. In 2011, there were reports that Russia's energy giant Gazprom planned to conduct geological surveys in Myanmar. And in 2019, Russian oil company Bashneft, which had already been operating in the country, started oil exploration operations.
Still, it is Beijing, rather than Moscow, that is the largest investor in Myanmar, focusing mostly on oil, gas, and mining. Myanmar held 23 trillion cubic feet of proven gas reserves as of 2017, ranking 39th in the world, making it one of the major natural gas producers in Asia. It also held 50 million barrels of proven oil reserves as of 2016. It is estimated that 80 percent of the gas produced in Myanmar is exported to Thailand and China. The largest oil and gas fields are located in Rakhine state and its shelf zone in the Bay of Bengal – where clashes between Muslim Rohingya and Buddhist Rakhine communities regularly take place.
The deepening ties between Russia and Myanmar make it likely that Russian information warfare purveyors like the Wagner Group will enter Myanmar and provide economic, political, and military services for the military regime, possibly in exchange for air and/or naval bases. After all, Russian analysts already have stated that Moscow's motives in Myanmar are the revenues from arms sales, demonstrating support for allies threatened by revolution, and an opportunity to expand influence in Southeast Asia where arms sales are Russia's apparently strongest calling card.
Given Russia's long-held ambitions for a foothold in the Indian Ocean and the opportunities that have now emerged, Myanmar likely will become the next Russian base in this increasingly critical region. And given the growing rivalries that already exist in the region among China, India, and the United States, the addition of Russia to the already contested waters could create a true battlefield for great-power competition.
Dr. Stephen Blank is a Senior Fellow at the Foreign Policy Research Institute (FPRI). Dr. Blank is also an independent consultant working with various U.S. government and corporate clients and a former professor at the U.S. Army War College. Blank has authored hundreds of foreign policy-related articles, white papers, and monographs – specifically focused on the geopolitics and geostrategy of the former Soviet Union, Russia, and Eurasia.
The views expressed in this article are those of the author and not an official policy or position of the Newlines Institute.